@ellejames_makeup
Our top tips for summer skin protection.
1. FIND A DAILY FACE SAVER YOUR SKIN WILL LOVE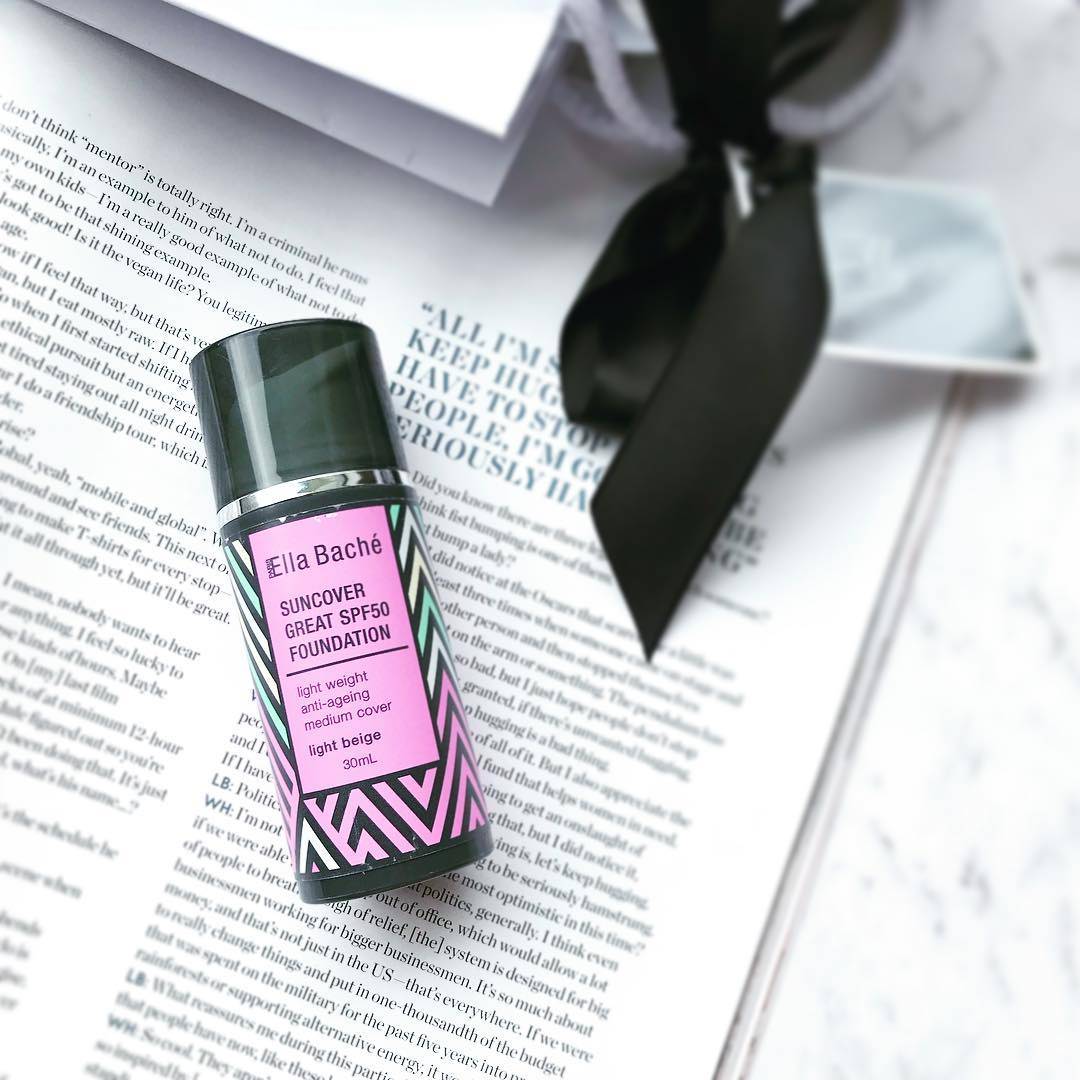 …because if you don't love the texture, feel, and wearability of your daily sun protection then you won't be diligent about wearing and reapplying it. Meet one of our staff favourites: Suncover Great SPF50 Foundation is a true multi-tasker, combining the highest SPF and UVA/UVB protection with free-radical fighting antioxidants like Green Tea and proven nourishers like Jojoba and Lanolin to keep skin hydrated and happy. The fact that it also doubles as a light-diffusing, medium-coverage foundation to even out your skin tone is why it's one of the best sellers in our Sun Protection range and a truly versatile face saver. P.S. We're wearing it right now.
2. BUY AUSTRALIA-APPROVED SUNSCREEN
If you've ever been overseas and bought sunscreen while you were there, let's permanently file that away under 'Things I Did Before I Knew Better'. In Australia, we take our sun more seriously than most, given our sunscreen regulations are widely considered the strictest in the world.
Our Ella Baché sunscreens are made and independently tested in Australia and don't just deliver maximum, broad-spectrum protection but also support and enhance your skin with ingredients including antioxidants and nurturing hydrators. For poolside protection, beach going and outdoor sports, we love Active Lotion Great SPF50+. It's water-resistant and is a light, non-greasy lotion with a dry finish that makes it not only easy to apply but easy to wear. It's also alcohol free, sweat proof, and is boosted with hydrating ingredients such as Macadamia Nut Oil, Squalane from Olive Oil, and Lanolin, as well as Antioxidants Vitamin E and a superfruit complex to fight off free radicals.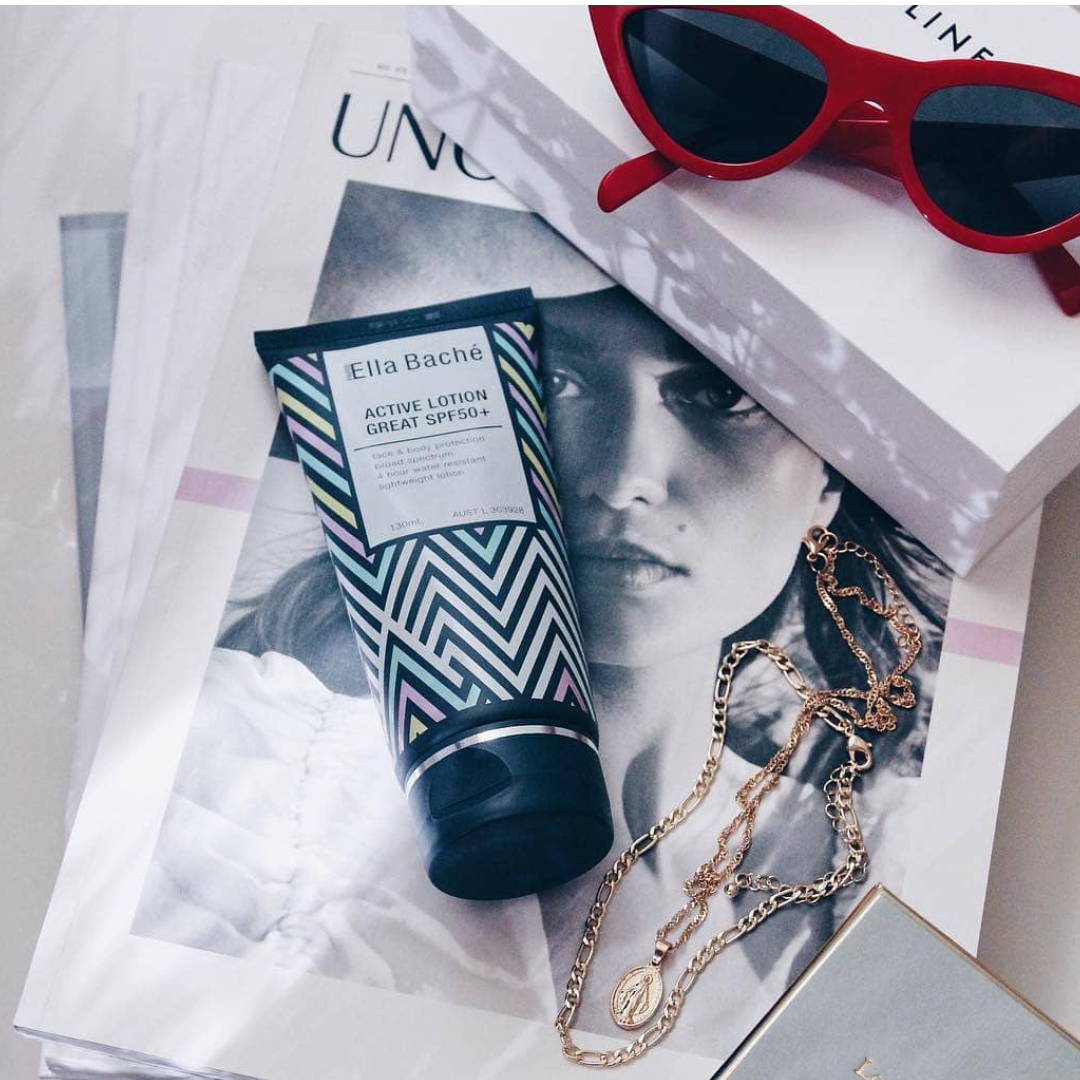 Now is the time to replenish your sunscreen wardrobe: buy any two Ella Baché skincare products and receive a complimentary limited-edition Daily Hydration Spritz (valued at $39). Find your nearest Ella Baché salon or David Jones location here.
3. THINK BEYOND SPF
While a high SPF, broad-spectrum sunscreen is an absolute skin essential, for complete protection, complete your look with a broad-brimmed hat and protective sunglasses that comply with the current Consumer Goods (Sunglasses and Fashion Spectacles) Safety Standard to protect your eyes and the delicate skin around them—one of the first places to spotlight premature ageing.
Like your sunscreen, it's best to buy your sunglasses in Australia from an optometrist or eyewear specialist so you can trust they've been tested and meet the regulatory protection standards. When shopping for sunglasses, it's easy to prioritise how they look over how truly protective they are but make sure you check the label and choose a pair rated category 2, 3, or 4 for the best UV protection.
Summer means longer days, more time spent outdoors, higher UV levels, hotter conditions, and more sunscreen reapplied more often; all of which can take a toll on how your skin looks and feels. Dry skins can feel drier, congested skins can become more congested, and sun damage can be more pronounced. Which is why it's important to check your skin in with a professional therapist to help you not only weather the Summer season and the challenges it can bring but to learn what your skin loves. Our Sort My Skin salon treatment is perfect for those prone to blemishes and congestion and is a deep cleansing, purifying treatment to decongest and rebalance your complexion. We also like to start the season with a Find My Balance treatment to help restore the skin's pH balance and improve moisture retention.