Our Support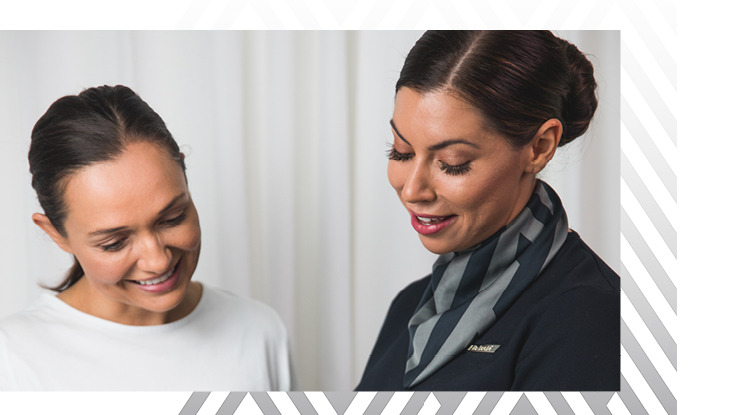 Now in our third generation of family ownership, Ella Baché boasts the country's largest skincare franchise network and our products and services are available in over 150 salons nationwide.
There's no secret to our enduring success. Our brand reflects the traits Australians tend to value and admire most, like authenticity, curiosity, hard work and confidence. As a franchise owner, you can expect the ongoing support and training you need to create the vibrant lifestyle you want.
Business Management Support
A Business Manager assigned to your salon to give support and promote the growth of your salon
Assistance prior to your salon opening and during your crucial first few weeks. Fortnightly visits during the first three months and then once every four weeks (or as you need us).
Guidance in business planning, marketing, public relations and sales initiatives
Up-to-date information on your stock transactions
Assistance in motivating and focusing your salon team to help them achieve
 
Education and Training Support
Education and training for you and your team in the latest skincare treatments, techniques and products
Help to maintain and improve your product and treatment sales, and effective product merchandising in your salon
Education for your team on campaign strategies
In-salon training and promotional activity, where appropriate
 
Your specially assigned Business Manager will:
Provide in-salon business coaching prior to the salon opening and during the crucial first few weeks
Help you with business planning by visiting you frequently during the first three months, and then provide continual support through monthly visits (or as needed)
Work with you to undertake a comprehensive annual review to help you set your goals for the future
Help you create and implement marketing plans for your opening along with our on-going monthly promotional calendar
Detail and debrief salon staff on campaign strategies
Organise in-salon sales training and promotional activities as needed
Keep you informed of your stock transactions and progress
Deal quickly and efficiently with your queries
Assist in motivating and focusing the salon team to help them achieve retail/treatment targets each week/month
Assist you to ensure your salon aligns with best practice within the network
Help you to maintain high standards in customer service, presentation and practise standards with independent benchmarking
 
We employ an expert team of field trainers to assist you with:
Ongoing training and education for you and your team
Monthly training to support the National promotional program
Coaching and training your salon team in delivering superior service and treatments
An annual training calendar including product schools, workshops and product launches
In-salon training, which is delivered on a regular basis and focuses on your team's individual training needs
Advanced skin seminars for experienced beauty therapists to keep them current
As a new franchisee, you will receive five days of training and coaching prior to your opening. You will also receive ongoing support for the first two weeks from your Business Manager and Field Trainer to ensure your team is ready for action.
 
When you're part of the Ella Baché family, you'll reap the benefits of our strong brand and the support of an accomplished marketing team.
Our commitment to consistently reinvigorating ourselves through progressive skincare research and product development, as well as strategic brand marketing, has carved a market-leading niche for us
We provide a monthly promotional plan that is supported with professionally designed point-of-sale material, as well as a national advertising and public relations campaign
Our marketing initiatives are supported via co-operative advertising and rebate programs
We provide local area marketing support through the creation of templates and have invested in a new website with market leading digital capabilities, in conjunction with our virtual salons
 
Your own dedicated page for clients to browse your menu of services, special offers and book appointments online, as well as to promote your own local area initiatives and awards.
 
A job well done deserves a reward. We recognise passion and hard work in a variety of ways, including:
National incentive programs for Beauty Therapists, Salon Teams and Salon Owners
Our Annual 'Ella Awards', an opportunity for therapists and salon owners to shine amongst their peers. This glamorous event recognises the performance of top salons, and elects individuals in each state for outstanding performance and commitment.
Generous incentive offers for our top performers including cash rewards, training and trips away!
 
The family oriented nature of our company inspires Salon Owners across the network to share business and management intelligence, performance tips, best practice protocols and margin strategies to achieve greater returns.
The benefits of our collaborative approach to franchise networking are many. One of the biggest benefits is that you can benchmark your business performance against your peers in a transparent and collaborative environment. You have the opportunity to share your challenges with fellow Salon Owners to learn how they've coped in similar circumstances and share your solutions to help your peers grow.
These strategic alliances are offered formally (in group sessions) or one-on-one, if requested.
 
Annual Business Owners Conference
When you're part of the Ella Baché franchise group, you're part of a dynamic group of entrepreneurs. Each year, we offer salon owners the opportunity to attend our conference to acquire:
Business tools to improve your operational efficiency
Ideas to inspire business development
Opportunities for professional growth through networking
 
Constructive, open and two-way communication between all Ella Baché franchisees and management is a crucial element of our solid franchise partnerships. Our advisory council exists to:
Actively identifying new business opportunities and develop them in conjunction with our network of salon owners
Continually improve our professionalism, research and development, and operational efficiency
---