Our skincare line-up is unbeatable, a shelf with some of the best products on the market, and whilst we painstakingly spend morning and night priming and prepping our skin with a multifaceted routine, our body care tends to be… a forgotten story.
Perhaps it's just me, but if there is one thing for certain I am more of a slap-on-and-go type girl when it comes to body care below the decolletage, and it serves me right when I'm left wondering why my skin looks like it's copped the wrath of a week at burning man.
So, with long days pool side, beach side and just about everywhere else I thought it was high time that I start working on one of my many 2022 resolutions, its time to take body care rituals from zero to hero, and with a curated list of powerful products in tow we can all say hello to soft, and supple skin…
WASH
Ella Baché Floral Oil Face And Body Cleansing Oil: a body wash oil, with a scent so divine, it literally leaves you smelling like a rose garden – and thanks to a luxurious blend of unique Floral Complex and ultra-nourishing Lanolin it not only removes surface impurities but also intensely hydrates the body. Simply add 1-2 pumps into your bathwater or whilst you're in the shower and you are left with skin that feels hydrated and protected.
EXFOLIATE
Keep your skin soft with Ella Baché Gentle Enzyme Body Exfoliant: a silky-smooth scrub enriched with Papain Enzymes to soften and remove dull, rough skin cells and extracts of Oat and Rice to soothe the skin, leaving it bright and invigorated.
---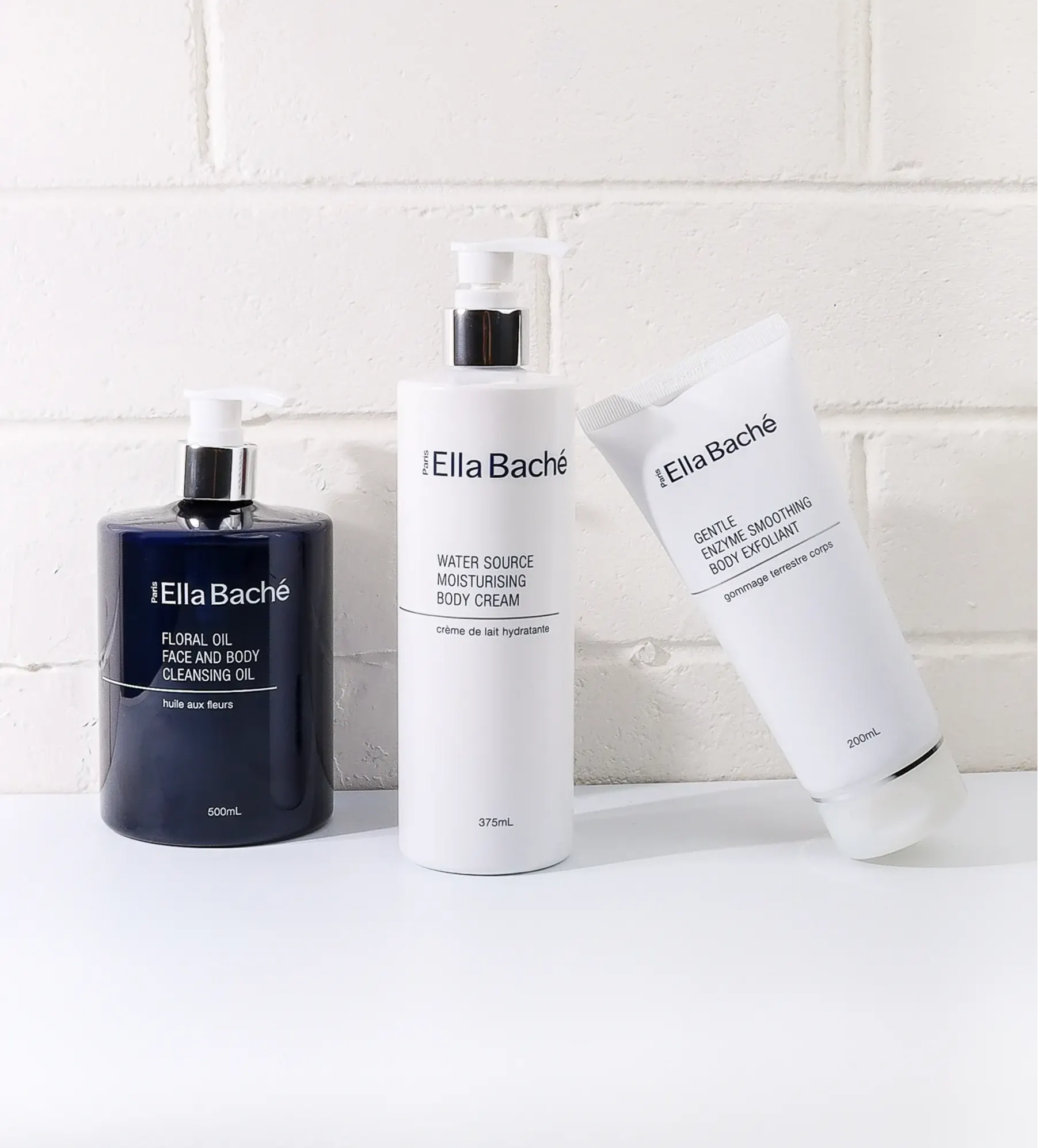 GET HANDSY
I am sure you have heard before that one of the first places to show signs of premature ageing is the hands, and, just like the face and decolletage this part of the body needs individualised attention.
---
WASH
Ella Baché Botanical Hand Wash: If the last few years have taught us anything, it's that a good quality handwash has never been more important. Which is why we have formulated a wash that boasts the ability to cleanse and hydrate, rich in botanical extracts and antioxidant properties your skin is left restored and protected.
MOISTURISE
Ella Baché Hand and Nail Treatment Cream: the perfect handbag staple it will quickly become your take everywhere product, dual action, rich and protective it is paired perfectly with our handwash. Boasting a unique blend Antioxidant Fruit Oil and Vitamin E, it will strengthen cuticles and nails, whilst nourishing the hands.
---