Ella Baché Bondi Junction
Do you want to turn your dreams into a reality?
Then we suggest you read on.
Today, taking control of your future and achieving your dream of becoming a business owner has never been so simple; and thanks to Ella Baché, we are here to turn that dream into a reality.
Below, we have enlisted the six simple steps that will guide you through the process of becoming an Ella Baché Salon Owner, and with franchise and business teams here to assist you in getting your business moving from the ground up, we are with you, every step of the way.
1. ENQUIRY
The first step is putting motions in place, and a very simple one at that. It's time to make an enquiry with one of our franchise managers, this can be done online, via email or over the phone. Once our team have received your request, we will get in contact with you and schedule a time that we can sit down and learn about you, whilst educating you on our company values and prospectus.
2. INTERVIEW AND AGREEMENT
As a family run business, we are committed to ensuring you not only strive, but thrive within the company. So, following on from step one, you will sit down with our Ella Baché Franchise Managers to discuss your goals for your new potential business, this will enable them to ensure that both yourself and the brand are aligned for a successful future ahead. During this process, contracts are drawn up and signed, held with the utmost confidentiality.

Ella Baché Bondi Junction
---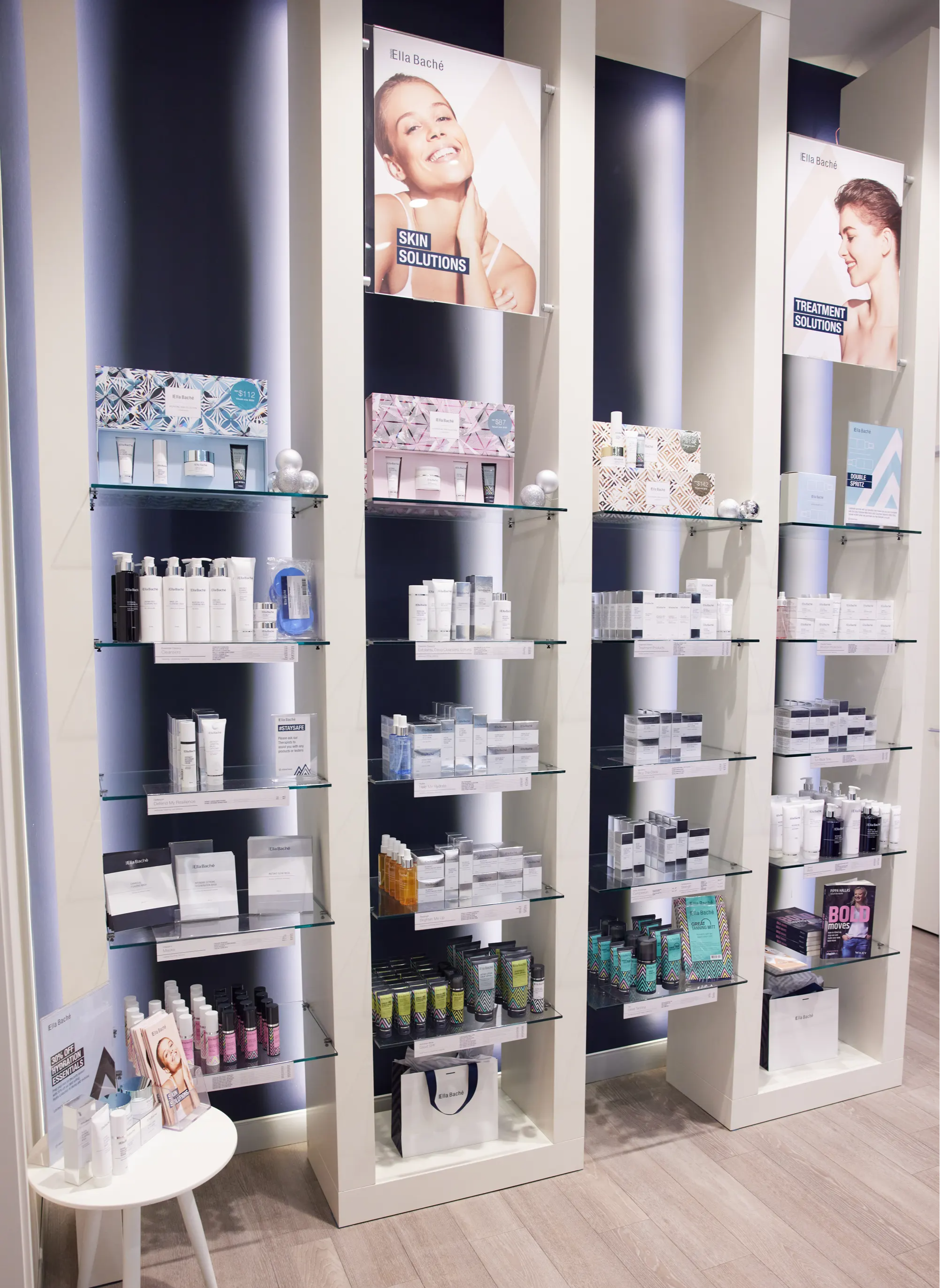 ---
3. PURCHASE
At Ella Baché you have the opportunity to buy an existing Ella Baché Salon Business or choose a new and exciting exclusive territory – our franchise team will guide you through this process to ensure you choose a location that is best suited to you, we will also research locations, shop fronts and centers, along with our marketing and sales teams that ensure the roll out of your business operates smoothly. During this exciting process your franchise and sales manager is always readily available when it comes to coaching, planning and goal setting.
Tried, tested, and proven our methodology and business model enable you to start a vibrant new future with commitment and support.
4. BUSINESS MANAGEMENT & SUPPORT
With the purchase of your salon, we assign you to your own Business Manager, they are there to give you support and promote the growth of your salon. Prior to opening day, we are with you every step of the way, and during those first three months of opening we will sit down with you and implement a result driven marketing plan for your opening, along with face-to-face reviews to help plan and set milestones for both you, and your business.
---
---
5. EDUCATION & TRAINING
Education remains at the core of the Ella Baché brand – and it is instilling the foundations and knowledge that has enabled us to become the brand we are today. For you, and your team we provide educational tools and access to support when needed on the latest skincare treatments, techniques, and products.
6. HANDOVER
CONGRATULTIONS, you are now an Ella Baché Franchise owner, and have taken your dreams and turned them into a reality. The best bit? Although we hand the reigns over to you, we have a specialist team that provide marketing, sales and in salon training on products and services, workshops, and skincare seminars. And, to celebrate joining Australia's largest skincare network we invite you to connect with franchise owners around
Ella Baché Bondi Junction
So, if you are looking to embark on a new and exciting opportunity, then contact us, we would love to hear from you!
---