Organic shapes, womanly silhouettes and natural landscapes; these are just a few of the expressions that embody the works of Ashleigh Holmes a highly celebrated fourth-generation artist based on the Northern Beaches of Sydney, Australia. At just 26 years of age Holmes has built an esteem of collections and is now recognised across the globe for her abstract expressionistic works… upon viewing one would describe them as gentle, dreamy and inviting with characteristically neutral tones and feminine soft palettes. In late 2019, Holmes exhibited in Malaga, Spain – the birthplace of Pablo Picasso. Ash leads with drive and creativity and we welcome her to our 'BOLD Women' series where we discuss what inspires and energises her, her career journey so far, and the bold moves she has made along the way.
As a fourth-generation artist, I hope to continue the legacy that my family created – From as young as I could remember I always had a great interest in art, creatively it was something that I was drawn to and really felt that it was where my strengths lay. Starting out as a vocational pursuit I spent late nights and weekends consumed in my home studio, whilst working full-time in fashion; I loved every minute of the artistic process and used the creativity to fuel my passion turning it into a full-fledged professional career, being able to do so has been incredibly humbling.
"Art can be a form of meditation offering a calm space for your mind to wander, it is a great tool to be expressive and grounding all at the same time."
As an artist you are put in a vulnerable position that allows people to judge and subject your work– I think that in order to live boldly and truly on your journey you have to be okay with the fact that some people are not going to agree with or like what you are doing – over the years I have had many people judge my art, I have had artists whom I look up to have opinions on my work and in time I have learnt not to let that bother me. I was once told never to mix pink and green together, it just so happens that those are two of my key colours – I now look at those artworks and feel proud as they resemble staying true to myself and my journey.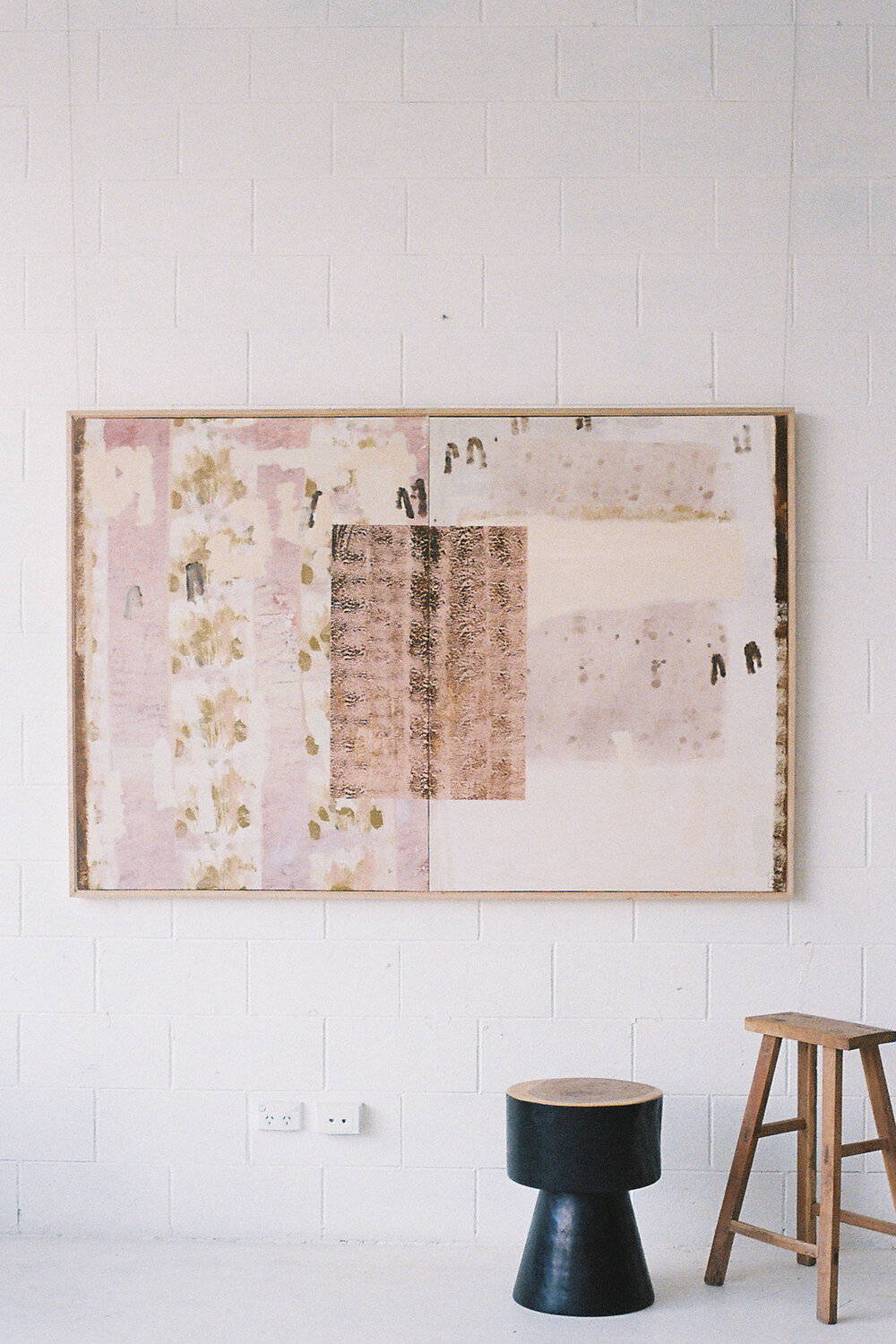 Authenticity is key when it comes to creativity - Art is a very personal and subjective process and in order to take people on that creative journey through my work I always ensure I am being completely authentic, enabling people to view the work from my perspective. Before I put brush to canvas, I set my intention for the artwork using the psychology of colour throughout my abstract pieces to take my clients on that journey. For me, the use of colour, layering and abstract movements is what I use to translate the vision in each artistic piece.
In the beginning I had a vision, I set aside the thoughts of doubt and worked with passion – I felt so clearly about what I wanted to produce and how I wanted it to look, this didn't happen overnight, it took a few years to convey what I had in my head onto the canvas. I was always driven to showcase my art and that sense of drive overruled the feeling of fear; this was my authentic decision and if the feeling of self-doubt did creep into my mind, I would use that emotion to pivot and re-focus.
"In the beginning I invested all my time and money into art, I would work to make money to paint. I wasn't always sure it would pay off but backing myself and using the passion in my belly became my coat of arms."
"Have you heard the saying open to anything, attached to nothing?"
I think that this comment applies to this year more than ever, these current times have been a huge learning curve for us all in one way or another. Grand plans might have been put on hold, but I continue to focus on my art and exhibitions; in business and in a personal sense I think staying humble and positive are the key successes for living a bold and authentic life!