Christie Nicole has brides all around the globe swooning over her ethereal, bespoke wedding dresses, from liquid silk to dramatic tulle, it's a far cry from her humble beginnings handmaking lingerie from her grandma's home. Renowned for enabling even the most fashion-forward brides to create exquisite dresses that embody their own, unique style, Christie has a unique eye for weaving femininity and romance to her gowns, whilst showcasing intricate details, renaissance style embroidery and hand sewn ornamental needlework.
When it comes to Bold Moves, Christie knows a thing or two about stepping out of her comfort zones – a decision to move to bridal, she reflects on humbly. With little to no cash flow in the beginning, she learnt to live off the bare minimum, whilst investing in beautiful fabrics to create and inspire all those around her.
The beginning of Christie Nicole Bridal was fortuitous, but it didn't come without a lot of hard work...
I was obsessed with design, and from a young age developed an innate love for the creative process. In 2013, I finished a Bachelor of Design and went on to launch 'Christie Nicole Lingerie'. It was right when Instagram was taking off, so I was able to use that platform as my visual shopfront whilst I worked behind the scenes designing, sewing and creating.
It wasn't until a friend reached out to me wondering if I would be interested in designing her custom wedding and reception dresses that my horizons broadened, it was thanks to her and my grandma (an amazing seamstress) that I was able to take on a new journey… cue the launch of Christie Nicole Bridal; an amazing ride so far, I learnt that pushing myself out of my comfort zone, enabled me to realise my capabilities.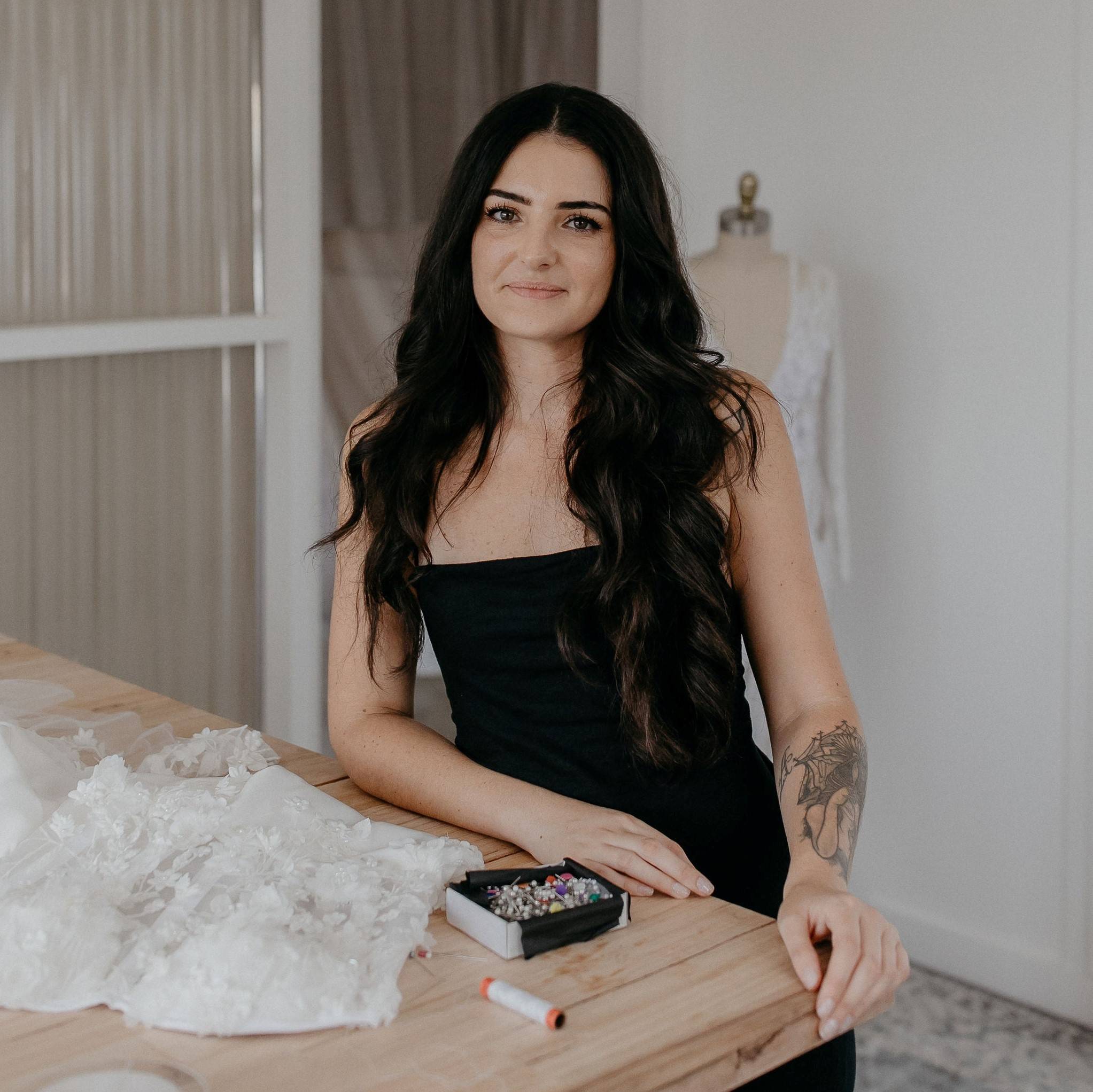 "In the beginning I always knew that I wanted to own my own business. I didn't want to work for anyone else, so I put everything I had into Christie Nicole – from there my story evolved, I started to figure out what I really wanted and started pursuing that dream."
Before my story evolved, I let my creative mind run free... With my first collection, I reflected on elements I had created for my custom brides, working on one design at a time. My focus is on custom made, bespoke wedding dresses and having this as my manifestation allows me to constantly evolve, every piece is a journey within itself, each resembling their own unique story.
Being bold and backing yourself is all apart of the process... With no financial help from the bank I completely funded Christie Nicole Bridal myself, it was hard to keep cash flow, but when you have a passion and a vision you can get used to living off nothing, if you want something, you will find a way… even if that does mean working countless jobs to keep you moving forward!
"Setbacks come and go, but it's imperative that we stop and compartmentalise those thoughts and push backs, everyone is on their own journey, so its important that you stay focused, authentic and true to yourself."
As a business owner, it is very easy to get caught up in running at a million miles per hour... With deadlines that can see me having numerous dresses all to be finished within weeks of one another, I always stop, take a step back and re-organise my mind. As the designer, seamstress and fitter I sometimes wish I had 4 extra arms!
Living boldly means... Pursuing your dreams and not holding anything back, learn from your mistakes and build up a tribe of supportive people around you, that will help you continue to step up, and stand out!