In the latest instalment of our Bold Women Series, we welcome celebrity chef, restaurateur, author, speaker, and TV Host Sarah Todd. From what started as travelling the world as a model then led to discovering a love for food and culture she had never known. Expanding on her love of food, Sarah appeared on MasterChef Australia in 2014 and was then catapulted into the culinary world.
Sarah is one of Australia's most celebrated food exports in India. Over the past six years, she has been affectionately known as 'India's daughter-in-law' and has enjoyed meteoric success due to her legions of dedicated fans and her highly successful restaurants. We sat down with Sarah to talk all things passion, daring and bold.
What does BOLD Beyond Beauty mean to you?
I love this phrase, and I believe it perfectly describes my transition from modelling to cooking. I made a decent living from modelling, but it lacked the passion I needed to be sustainable. Early in my modelling career, I developed an unhealthy relationship with my weight and body. You are always trying to fit a mould or preconceived image. It has taken a long time to feel comfortable in my own skin. I like to keep fit and healthy, but I accept my curves and am proud of them. Although, I do, at times, need reminding not to put so much pressure on myself. Be kind to yourself.
On the other hand, cooking lit a fire in my belly, and I was determined to make my mark in this male-dominated field. Seven months into the build of my first restaurant, Antares, away from my family and everything I knew, I found myself lying in my bed one night not thinking it would ever come together. I did not think I could go on. Never one to give up, I scraped myself off the bed and went into the restaurant to run the dishes from the pass while nursing a broken toe.
---
I stopped and turned when someone tapped me on the shoulder. A young girl was standing there, and she told me that her friend had travelled by road for 8 hours and wanted to meet me. Her friend was maybe 17, and when I met her, she was crying. I hugged her, and it was at that moment that I realised it was not just about me anymore. This young girl had followed my journey from MasterChef and witnessed what could be accomplished from hard work and perseverance. Every successful woman was once that 17-year-old girl with dreams and aspirations who refused to give up no matter what curveball was thrown at her. I am inspiring young girls to achieve and succeed.  
For me, BOLD beyond beauty means to embrace life and live every day with passion, determination, and resilience. Invest in yourself; you are your best asset. Never stop learning, whether it be from formal education or life lessons. The truth is you learn from failure, so don't be afraid to give it a go. Pursue your dreams. If you lose, keep the faith! If you win, be grateful!
How do you maintain fresh, glowing skin with your busy schedule?
To look fabulous on the outside, we need to nourish ourselves within by eating healthily. Like most working mothers, I do not have a lot of time, so I like to keep things simple. I'm one for quality over quantity. So, create a routine that you know you can fit into your busy schedule - consistency is key.
One of my favourite products is the Ella Baché Revealing Fruit Enzyme Exfoliant. With my schedule and a lot of travel, I find my skin gets quite dry. My skin is smoother, brighter, and healthier after a regular exfoliant.
---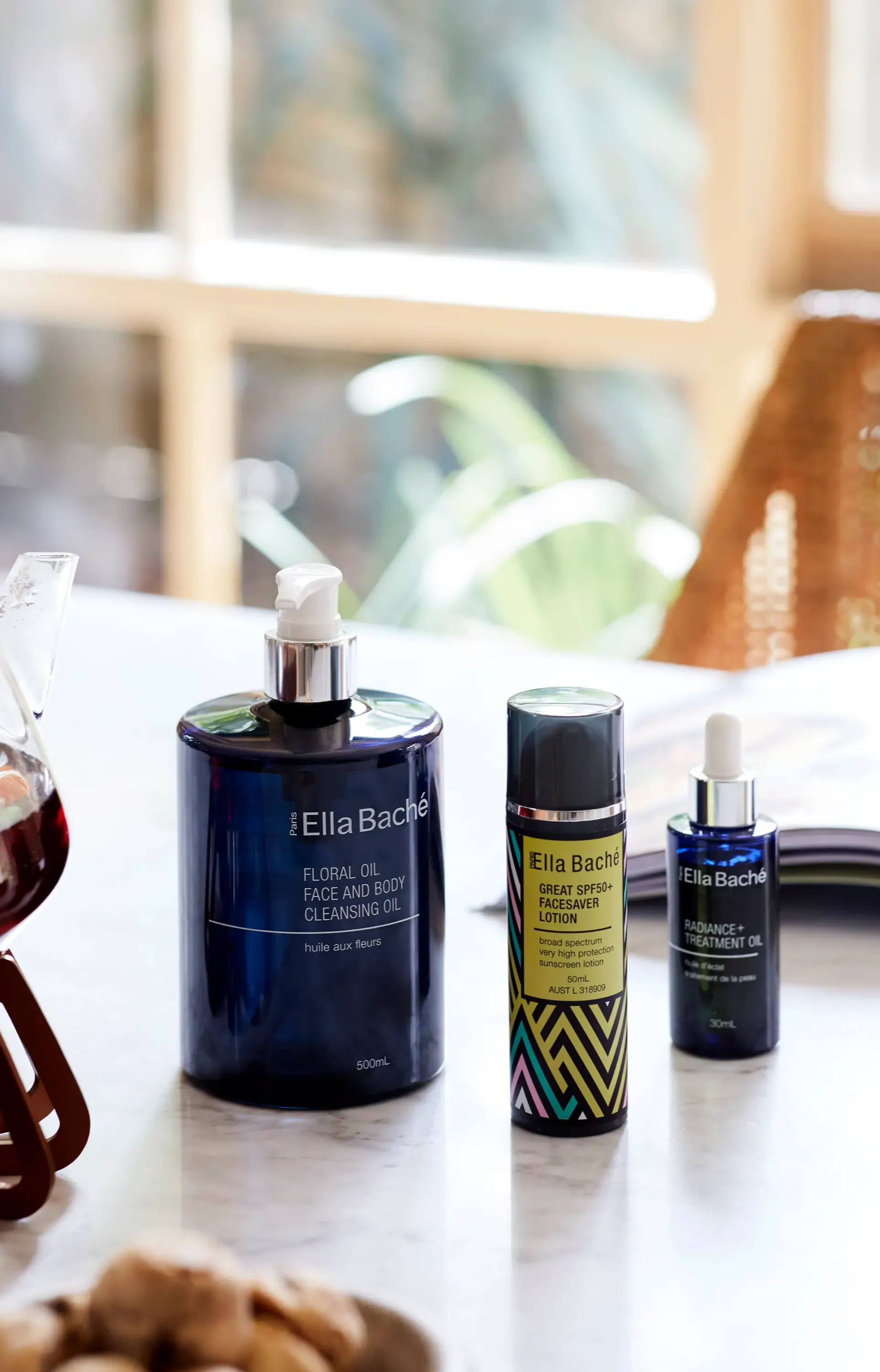 What is the boldest move you've ever made?
Moving to India to open a 250-seat restaurant. Not only did I not speak the language, but I had never been a boss before. A producer and cameraman joined me and for four months, they captured the trials and tribulations of the venture, which were documented in the 6-part series, "My Restaurant in India". There was no hiding, and eventually, I forgot about the cameras and what you see is raw and uninhibited.   Four years later, I backed it up with a second restaurant in Mumbai, also documented in the series, "My Second Restaurant in India".
This year my bold move is launching a food product. One positive that came from the lockdown was the time to work on a dream project with my brother. I cannot wait for everyone to try it when it is launched this November.
What are your tips to manage that all too familiar overwhelming feeling?
I am a prolific list maker. Prioritise and focus on one task at a time. Sometimes, it just about finding a sympathetic ear or taking time out. I am one of those people juggling many balls in the air. It can be overwhelming, but I believe that we need to feel a little uncomfortable to grow and learn. It is about not underestimating your capabilities.   Magic happens outside your comfort zone!
---
Can you give me an example of when something has gone worse than you hoped that it would, and how you got through that?
On January 9, 2019, we closed Antares for the annual Staff Party. The restaurant enjoyed five successful seasons, and everyone from management to the cleaning staff revelled in the success. We spent the afternoon dancing on tables, listening to Punjabi music and drinking beer. My son, mother and nephew joined in the fun, and it was a memorable occasion.
As I was driving home from the party, I received a phone image from a friend. The restaurant's roof was on fire. By the time I returned to the restaurant, it was completely engulfed in flames. My staff held me back as I tried to run towards the burning restaurant. I helplessly watched as five years of my life burned to the ground before my eyes. It was traumatic, and I went through a grieving process.
The devastation reached far and wide. Apart from our loyal staff, the restaurant was a lifeline for street vendors taking advantage of custom from restaurant guests as they passed by. Fortunately, after assessing the emotional and financial cost, we reopened in four months with a fresh new look. Again, the staff banded together to help the rebuild.
Lastly, if you had 20 seconds of insane courage what's the one bold move you would make right now?
I would start a modern Indian inspired vegetarian restaurant in Australia, then take it globally, opening in numerous countries worldwide.
---
---