From targeting signs of ageing to banishing blemishes and doing away with dullness, this multi-purpose serum does it all
In the world of anti-ageing skincare, retinol is regarded as nothing short of a miracle worker. Not only does it possess the power to diminish signs of ageing, but it can also help these concerns from appearing in the first place.
But that's not all it's good for… This overachieving ingredient is also brilliant for combatting dullness, acne and excess oil production, too. To say it does it all wouldn't be an overstatement.
Keen to add retinol into your skincare routine? We've got just the thing.
Ella Baché Retinol Night Treatment Serum is formulated with a powerful dosage of 0.5% Encapsulated Retinol. It also contains a slew of supporting ingredients including Peptides to strengthen and rebuild, Ceramides to hydrate and Niacinamide to smooth and brighten
If you'd like to learn about what Ella Baché Retinol Night Treatment Serum can do for your individual skin needs, read on.
Retinol for preventing signs of ageing
Ella Baché Retinol Night Treatment Serum works to assist and diminish signs of ageing by stimulating the skin's natural metabolic processes and restoring healthy and youthful functioning skin. With a heightened cell reproduction, fine lines, increased smoothness, and skin density, tone and texture clarity restored, the skin appears luminous, glowing and plump.
Pair it with: Ella Bache Eternal Day and Night Cream - The power duo work collaboratively as anti -ageing skin protection and rejuvenation moisture protectives that offer ingredients from olive oil extract to diamond powders, supporting the hard working effects Retinol Night Treatment Serum is doing.  
Retinol for ageing skin
Ella Baché Retinol Night Treatment Serum works against signs of ageing in two ways: It assists by stimulating your skin's natural collagen production, and it kicks your complexion's natural renewal process into high gear. Increased collagen means skin takes on a 'plumper' appearance meanwhile fine lines and wrinkles on the surface of the skin are smoothed out.
Pair it with: Ella Baché Eternal Ultra Rich Mask to add a layer of superior anti-ageing ingredients and extra nourishment for dry and dehydrated skin's. Alternatively, boost your skin's moisture and hydration levels with our Hydra Plumping Extreme Mask.
---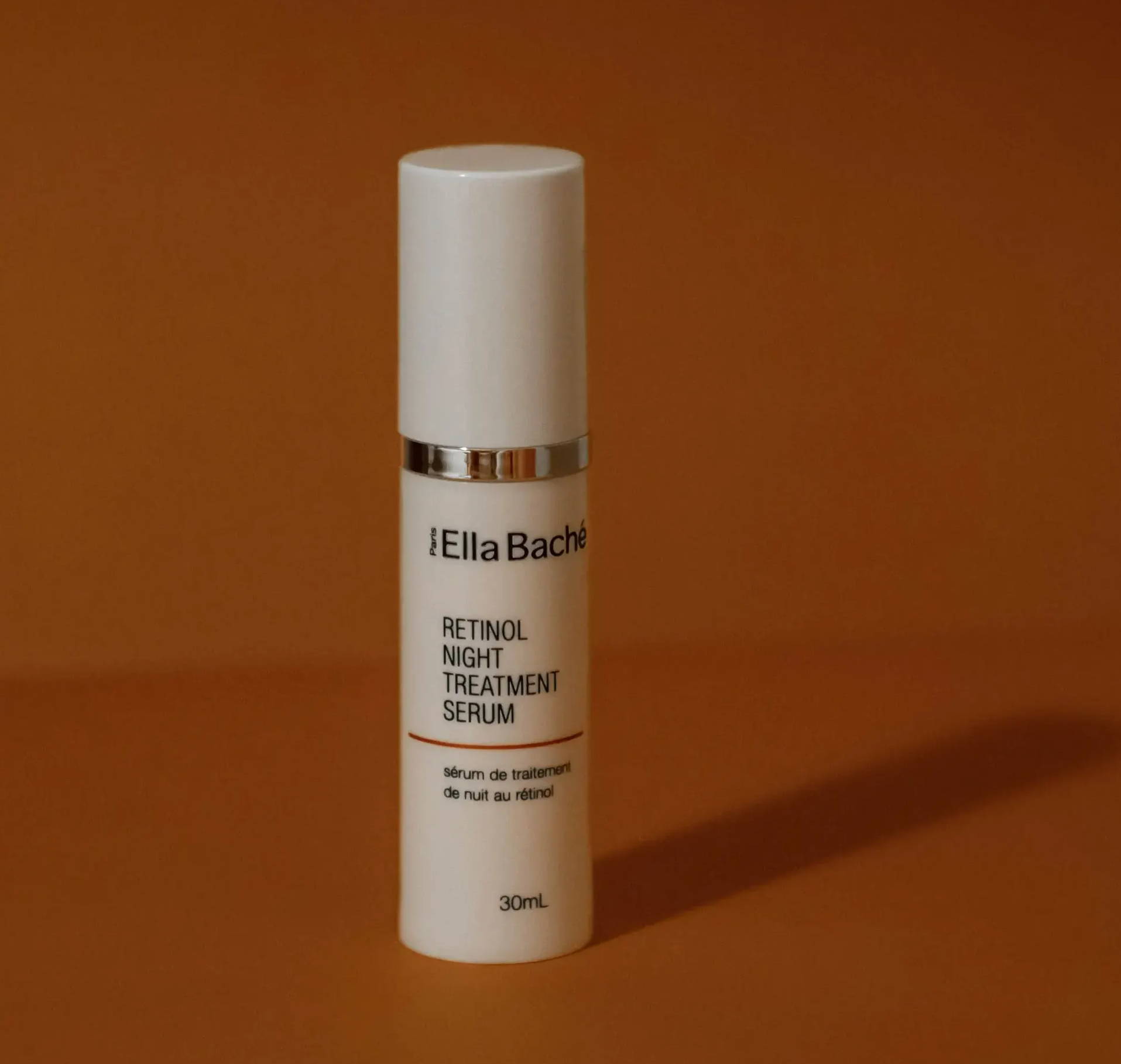 Retinol for oily or breakout-prone skin
How it works: Dealing with excess oil, congestion and skin breakouts ? Ella Baché Retinol Night Treatment Serum works to regulate oil production as well as purging the skin from excess sebum and oil build up . This helps to clear existing breakouts while also preventing future congestion from forming keeping the complexion totally clarified!
Retinol for dull skin
At the heart of dull skins often lies dryness. Ella Baché Retinol Night Treatment Serum helps to restore the skin's barrier function, which allows the skin to build moisture reservoirs , re- establish its healthy skin turnover function which assists with banishing parched, flaky skin by exfoliating away old layers of skin. This in turn allows brighter, more radiant skin to shine through - giving you a much more luminous look.
Pair it with: Ella Baché Radiance+ Treatment Oil to boost brightness and rehydrate the skin with Australian native Hemp Seed Oil, Kakadu Plum Seed Oil and Cranberry Seed Complex
---