By Sadaf Razi
Confession: I've only started using under eye skincare in the last year. Shocking seeing as I have dark under eye circles (mostly genetic) that can look more obvious when I'm tired. I also suffer from dehydrated eyes from time to time, which my regular skincare can't really fix.
You see, eye creams, gels and serums aren't really the same as your regular skincare and you could be missing a lot of their benefits…
They're often formulated with specific ingredients to de-puff and brighten your under eye area or tackle concerns like dryness. They take into consideration that the skin under your eyes is more delicate than the rest of your face.
So, if you're looking to dip your toes into the world of eye care you may want to start using a power-packed eye serum like the one I'm about to tell you about.
Meet the Ella Baché Collagen + Peptide Eye Serum
Starting with a lightweight but powerful eye serum like the Collagen+ Peptide Eye Serum rather than jumping straight into a heavier eye cream is a great starting point.
This little powerhouse tube promises to help rid you of tired looking eyes and deliver a brighter and more plump eye contour area.
How? With its active ingredients that include advanced peptides and ceramides.
What are Peptides and Ceramides you ask?
Peptides are a protein made of Amino Acids that you naturally have in your skin and without them, you lose firmness. Essentially, Peptides communicate to your skin cells to help produce collagen.
When formulated with antioxidant ingredients, such as Centella Asiatica Extract and Kakadu Plum Extract - both included in this formula, they help with skin elasticity.
Peptides also help with fine lines and wrinkles. That's what makes this a really good anti-wrinkle and anti-ageing eye product.
Ceramides benefit sensitive and dry skins, so look for this ingredient in your skin care. Ceramides are lipids (fat molecules) that help retain moisture in your skin. Its main function is to help with dehydration, which is a common under eye concern. The soft, replenished skin as a result, is a bonus.
My personal review after using the product for a week: It has a creamy/gel consistency that melts into the skin and what I love is that it's created with a cooling metal applicator that helps de-puff your under eyes.
You just gently massage the product in to awaken the under eye area and stimulate microcirculation.
To get the most out of the antioxidant ingredients in the product, I also applied the serum in the mornings as well as at night.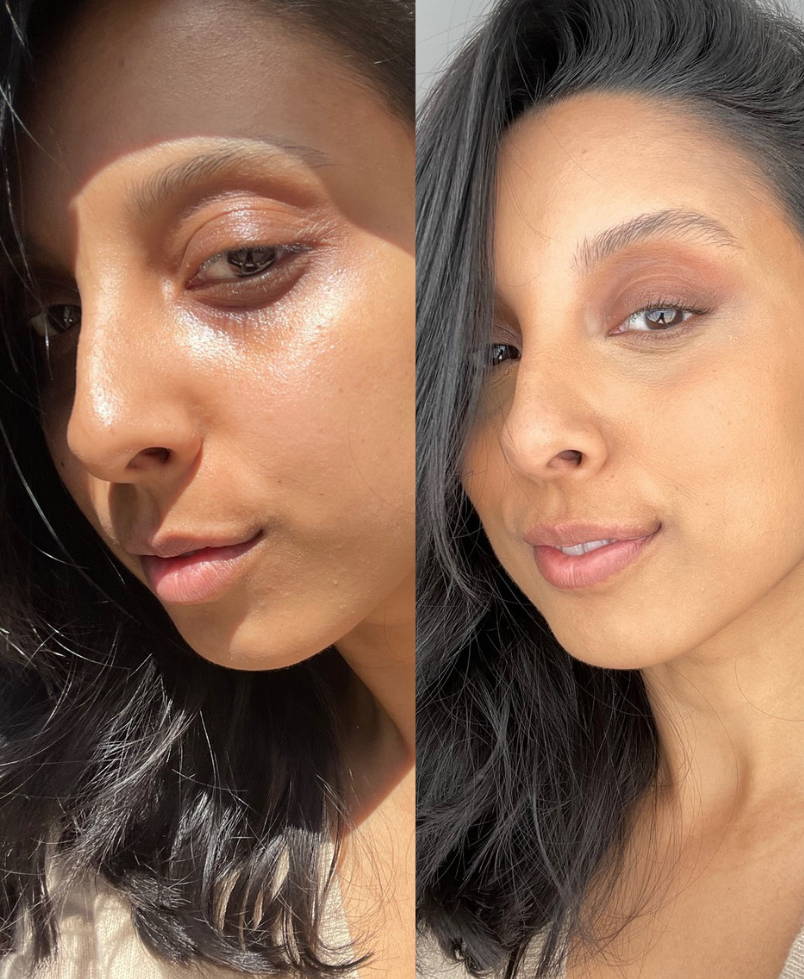 Before and after the serum applied under my concealer.
Antioxidants help fight free radical damage like UV rays, pollution and other environmental aggressors. So I feel good knowing I'm protected during the day too.
Made with soft silver particles, it illuminates the under eye area which will not only brightens, but also makes it a great primer before applying your concealer.
Summer really wreaked havoc under my eyes. I was drinking, not sleeping great, so a restorative eye serum is just what I needed.
My under eye area was soaking in a host of other hydrating ingredients in this product such as Glycerin, Vitamin E and Argan Oil, just to name a few.
If your under eye area needs a little extra TLC too, then you'll want to consider adding this eye serum to your skincare routine. It won't banish my dark circles forever as mine are genetic, but it works to hydrate and brighten which is just as important.
Over time, the Ella Baché Collagen + Peptide Serum will work to give you lasting hydration and if you're prone to breakouts or have skin that doesn't love anything heavy, you'll want to give this eye serum a go!
About the Author: Sadaf Razi has worked in the women's lifestyle category for over 10 years as a previous fashion editor turned beauty and lifestyle writer/content creator. She has written for publications and brands such as Who Magazine Australia, Beautyheaven and Adore Beauty.